What You Can Do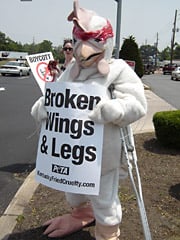 Sign the petition. In about 30 seconds, you can urge KFC to prevent the worst abuses of the chickens killed for its buckets. Sign the petition today!
Leaflet or demonstrate at your local KFC. Since 2003, people have protested or leafleted at KFC more than 12,000 times! Leafleting or staging a protest only takes an hour, and it sends a strong message to KFC that abusing animals is not acceptable. We offer lots of resources to help you plan and execute a successful demonstration at your local KFC—sign up to do one today! Or if you're already active leafleting or holding demos at your local KFC, please tell us about them here.
Become an online activist. Get code to display videos on your blog, banners for your Web page, and other ways to help spread the word with a simple click of the mouse.
Write to KFC. The more letters that KFC gets from people who are outraged by its cruelty and pledge to join the boycott, the more likely the company is to change. Check out a list of KFC executives as well as tips on writing letters to get started.
Inform KFC employees. Print out copies of PETA's "KFC Workers Unite!" leaflet and give them to the drive-through attendants at KFC restaurants whenever you pass one.
Go vegetarian. The best way to help animals is to stop eating them. Today, it's easier than ever to replace that cholesterol- and cruelty-laden animal flesh with healthy, tasty, and humane vegetarian alternatives. Order your free vegetarian starter kit today!