Compassion Over Killing Investigation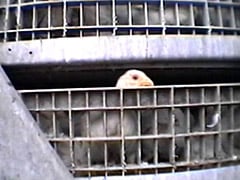 Birds are sent to slaughter in multitiered transport trucks that do not have adequate protection from intense heat or cold. They are denied any food or water during the trip.
Compassion Over Killing (COK), a Washington, D.C.-based animal-rights group, recently released pictures and video footage taken while undercover on a Maryland chicken farm that has confirmed supplying chickens to KFC. COK returned to the farm on a weekly basis for 45 days, the entire lifespan of a KFC chicken.
The investigation shows the deplorable conditions that these chickens are forced to endure for their entire lives, including chickens who are so crippled from breeding and being drugged for fast growth that they cannot walk and chickens who have become trapped in water feeders, starving to death. Click here to read more about this investigation.
PETA continues to join with the global humane community in calling on KFC to immediately adopt basic animal welfare guidelines that would eliminate some of the cruelty inflicted on these birds.
PETA's guidelines were devised by members of KFC's own animal welfare advisory panel and represent the most up-to-date studies and research into animal welfare.
Click here to read more about PETA's recommendations to KFC.
Click here to support PETA's work in behalf of animals who are suffering for KFC and other fast-food restaurants.